Happy Friday! If the impending weekend isn't enough to put a smile on your face, here's a little tidbit… Today is National S'mores Day! In honor of this oh-so-important holiday, let's talk about these gooey, chewy, delicious snacks, shall we?
Making s'mores is easy — Roast a marshmallow, place it between two graham crackers with a square of chocolate . Squish it down, let the hot marshmallow melt the chocolate, and enjoy!
Source
Nobody knows for sure where s'mores originated, but the first recorded recipe appeared in a Girl Scouts cookbook back in 1927. Since then, they've been a traditional and popular campfire snack, a staple at campouts and bonfires for close to a century.
But why should something as fun and tasty as a s'more only make an appearance at such casual events? With some quick, easy variations, s'mores would be the perfect addition to a wedding. Here are some ideas on how to incorporate them into your elegant affair.
S'mores Bar or S'mores Station:
Traditionally, weddings had one option for dessert… a tiered cake, cut by the bride and groom and served to the guest. But nowadays, anything goes! Weddings feature cupcake towers, dessert buffets, mini-baked goods, and chocolate fountains… so why not a s'mores bar? Most caterers should be able to set up a s'mores station with everything your guests need: ingredients, skewers, open flame, and, since they'll be dressed up in their finest, plates and napkins. Here are some beautiful s'mores bar setups for inspiration:
S'mores Favors:
When it comes to wedding favors, edible ones are the way to go! And a cute little s'mores kit is a fun and very affordable way to ensure that your guests won't leave their favors on the table at the end of the night. There are countless ways to assemble the kits, as you can see.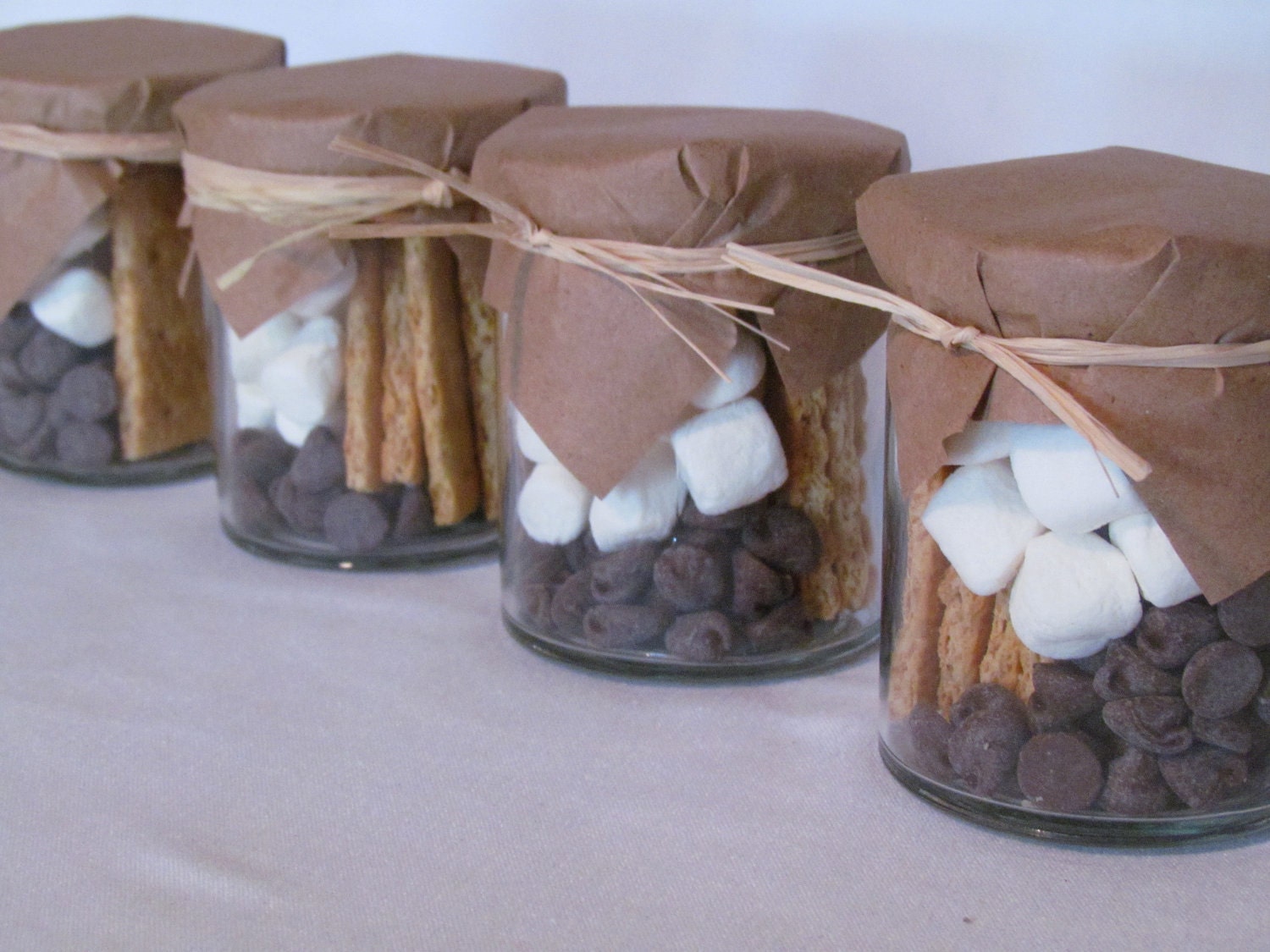 S'mores Variations:
Whether you serve s'mores at your wedding reception or give them out as favors, there are a lot of elegant updates you can try to make them even more special. Try one of these ideas:
Leave out the graham cracker and roll the chocolate-covered marshmallow in sprinkles or shredded coconut.
Add peanut butter, Nutella, or another tasty spread.
Use fancy flavored marshmallows. Vanilla bean, caramel, and mint are some flavors that would be extremely yummy in a s'more.
Instead of using milk chocolate, use dark chocolate or white chocolate. Or try a Peanut Butter Cup or Peppermint Patty.
Put a slice of banana or strawberry on the s'more.
The possibilities are pretty much endless, because what isn't better with chocolate?
Would you consider having s'mores at your wedding? How will you incorporate them? And if anyone can think of any additional fun variations, let me know, because I could go for a s'more right now!